The Eagle Scouts came today and built a new enclosure for the Rainbow Wildlife Rescue's future critters! It was a coming and going, but I think we were around 30 people at one time. The Scouts had managed to get all the material donated and put the new enclosure up within 7 hours!

We would like to thank:

Colton Beverly, Jamie Burns, Steven Gibbons, Chad Gifford, Creed Alexander, Rusty Ford, Bobby Brown, Andrew Murray, Skylar Bell, Michael Fick, Dana Gibbons, Chris Bell, Travis Johnston, Kenneth Gifford, Chili Alexander, Mike Beverly, Michaela Beverly, Debora Beverly, Pat Alexander and Jimmie Don Alexander.

The Following businesses and individual donated material and tools for the project.

Higginbotham's all lumber, corrugated tin, nails and hinges. Fibergrate donated staple gun and staples, friend of Boy Scout troop 18 donated the mesh wire, Jimmie Don Alexander donated use of tools, Jean Beverly for use of air compressor, CiCi's for donating the pizzas for lunch.

Also a HUUUUUGE Thank You to Kelli Parham who got the ball rolling!!!

Here are my favorite photos and a movie of today plus a link to the COMPLETE ONLINE PHOTO ALBUM: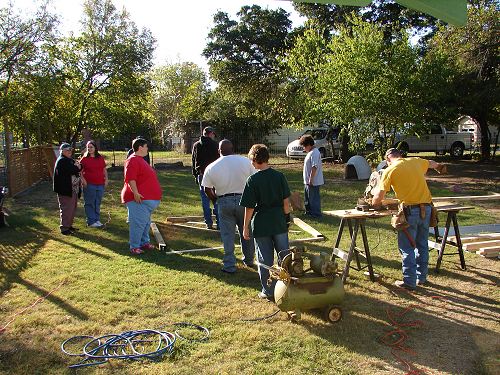 Gathering, planning, measuring, laying it out
Now watch it all happen!